The River Falls Community Foundation (RFCF) funds inventive programs impacting the quality of life in River Falls through its annual $10,000 Big Idea Grant. Abundant Yoga Community, is the most recent recipient of the RFCF Big Idea Grant. Abundant Yoga Community (AYC) will utilize funds to provide yoga opportunities for traditionally underserved populations within the River Falls area in nontraditional, comfortable, accessible settings.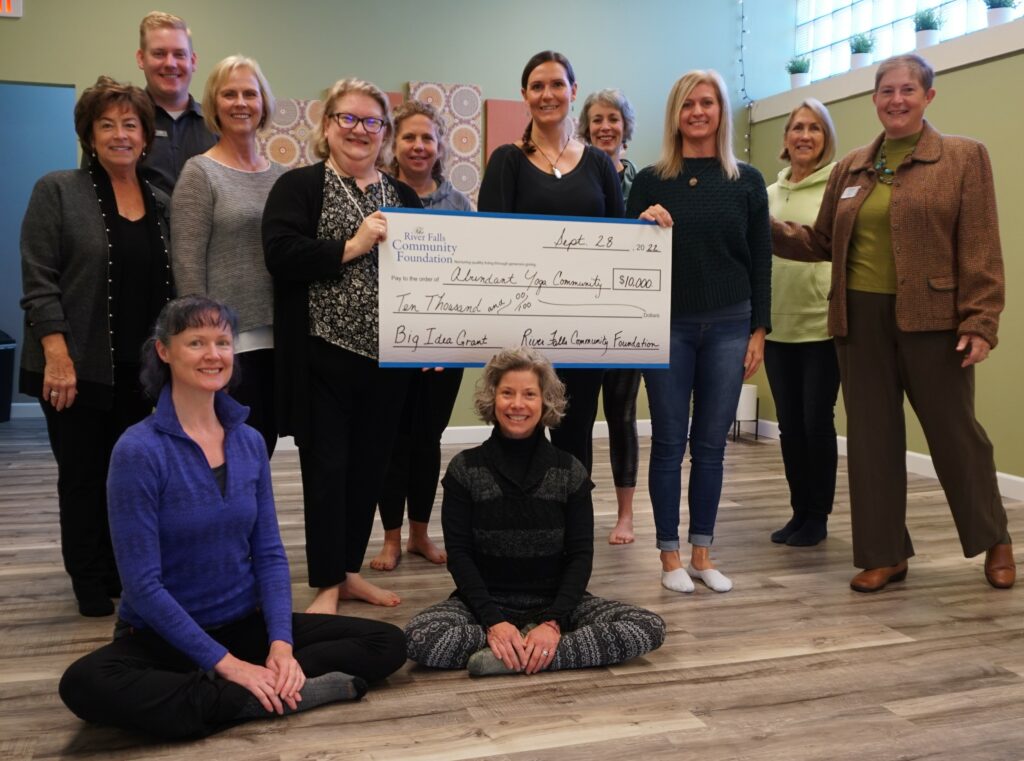 Tracey Mortensen of Abundant Yoga Community said she was motivated to provide the services in part by a sign welcoming people into the city which reads, We Are Building An Inclusive Community. "I wanted to be a part of that overall mission for the community, a mission which aligns with AYC's mission of making yoga more accessible for all," notes Ms. Mortensen.
The yoga program will utilize funds to provide trained and certified yoga instructors for sessions targeting six key communities: 1) those with physical mobility issues, 2) those recovering from substance abuse, 3) cancer survivors, 4) teens, 5) anyone who thought Yoga was out of reach due to cost or other barriers, 6) those who would rather start by accessing tools and instruction online. The team at Abundant Yoga Community felt these communities were some of the most underserved with regards to availability of physical, wellness, and meditative services. The funded yoga programs will largely be executed in group formats, thereby creating space for secondary connections among participants, caregivers, and other involved loved ones.
The Abundant Yoga Community sessions funded by the RFCF Big Idea Grant will begin this spring and conclude fall of 2023. For more information on upcoming AYC yoga sessions, contact Tracey at 651-497-6753 or AbundantYogaCommunity.org.
"This program is a wonderful example of the Big Idea Grant having big impacts among those community members most in need of a helping hand or a little extra care and support," says RFCF Board Chair Judie Babcock.
Previous RFCF Big Idea Grant recipients include:
2021 – Adorey's Treasures From the Heart store's textile recycling/re-making in support of Adorey Health Care hospice programs.
2020 – The COVID-19 Response Fund of the St. Croix Valley. The RFCF utilized its Big Idea Grant dollars to support local and regional nonprofit organizations assisting those most affected by the health and economic impacts of the pandemic.
2019 – The River Falls Public Library's Big Fun Lab, which provides wintertime indoor play and interactive learning games for young children and their caregivers.
2018 – The Sporting World store (707A N. Main St.), developed by Big Brothers and Big Sisters of Northwestern WI-St. Croix Valley, to establish a (volunteer-run) place which provides free or reduced-cost sporting equipment to River Falls community members in need.