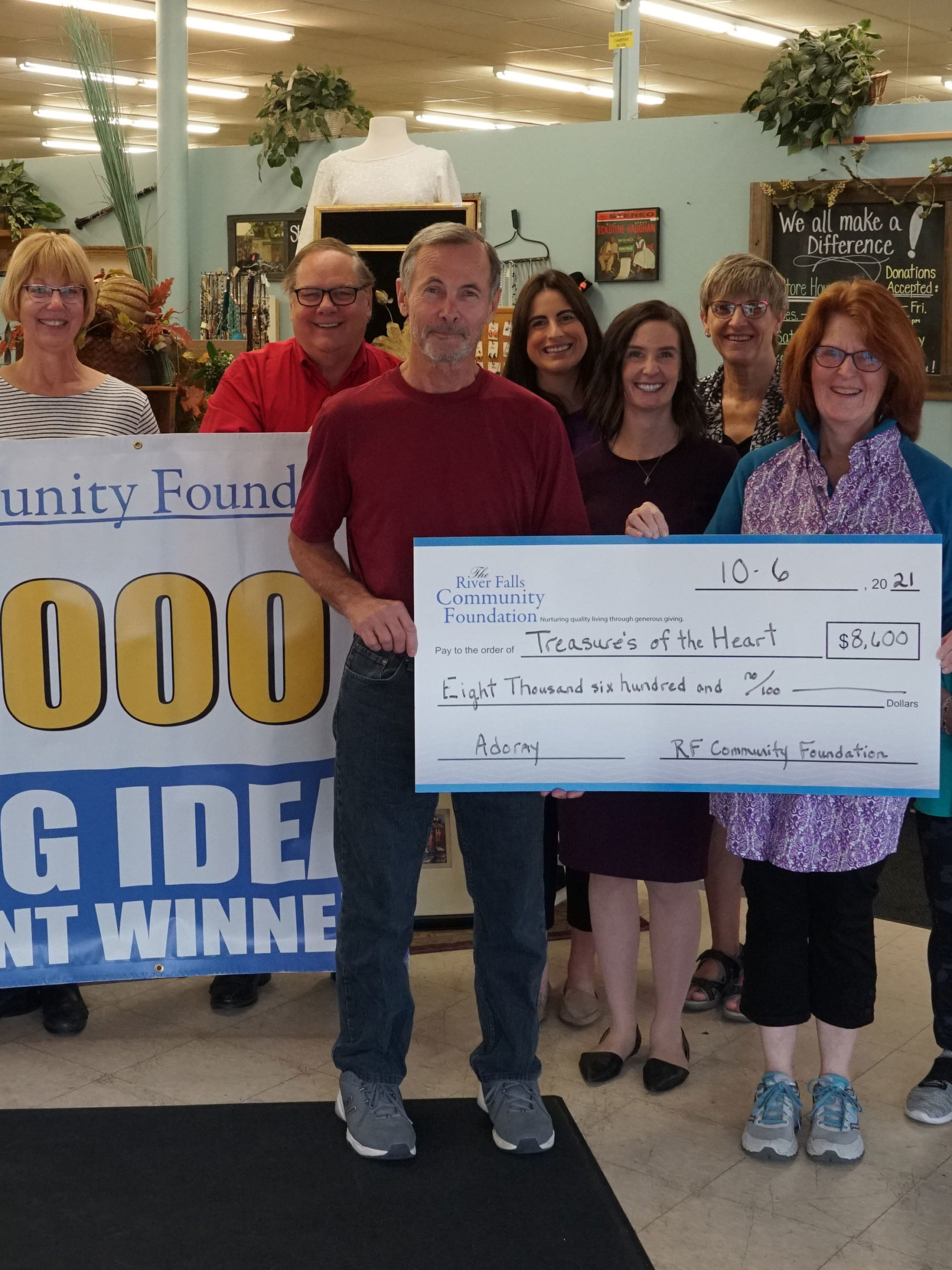 Our Grantmaking Cycle
2023
Spring
Vibrant Communities Mental Health grants in partnership with St. Croix Valley Foundation
Fall
Fall grants are now closed
Coming soon in 2024
Spring – Vibrant Communities grants in partnership with St. Croix Valley Foundation
Fall – Big Idea Grant (Up from $10,000 to $25,000!)
Grant Recipients
2023
Abundant Yoga Community … $10,000
River Falls High School Co-Located Mental Health Prgramming … $6,000
For onsite therapy in partnership with St. Croix Valley Restorative Services
River Falls High School Youth Mental Health First Aid Instructor Training… $6,000
To purchase Instructor Training Courses for youth mental health first aid
River Falls Middle School Mental Health Awareness & Chill Week … $500
To facilitate two week-long schoolwide events promoting teen mental health and wellness
2022
St. Croix Valley SART (Sexual Assault Response Team) … $4,344
For healthy relationship, consent and violence prevention education
Meyer Middle School … $5,480 for the purchase of Character Strong grades 6-8 curriculum and training
2021
Big Idea Grant Awardee … $8,600
Treasures of the Heart Sewing Project
River Falls School District … $2,400
Hot Spots to Support Remote Learning
Assistance & Resource Center … $2,000
General Operating Costs
Sporting World … $2,000
General Operating
Have a Big Idea?
We've increased the amount from $10,000 to $25,000 which will be granted to the chosen Big Idea in 2024
What Are We Looking For?
Any innovative community-minded project that fits one or more of these criteria:
Enhances quality of life
Helps underserved citizens
Builds community pride
Makes life more enjoyable for residents & visitors
Addresses an environmental concern
Strengthens community connections
Previous Big Idea Grants
Abundant Yoga Community River Falls Community Health Initiative for Underserved Populations to bring yoga practices to people with limited mobility, people in recovery, cancer survivors, teenagers on site at River Falls High School, and home meditation.
Adoray's Treasures From The Heart Big Idea Grant allowed them to develop new product offerings of one-of-a-kind items developed from repurposed textiles.
River Falls Public Library received a BIG IDEA grant to acquire equipment and materials for the BIG FUN LAB, a creative play space for children and families open during the winter months.
Sporting World (Big Brothers Big Sisters of NW WI/St. Croix Valley Region) received a BIG IDEA grant to establish a storefront on mainstreet to benefit kids and families in need with sporting equipment. Stretch your imagination, tap your creativity, and make River Falls even better!